Thriving in Tough Times Part 9
"Nation will rise against nation, and kingdom against kingdom. There will be earthquakes in various places, and famines. These are the beginning of birth pains." (Mark 13:8)
I saw on the morning news that we'll be into hurricane season next week. We live in the Southeast so hurricanes are an issue. In the Midwest tornadoes are on the menu for this time of year, although we get our share of those down here as well. I also saw on this morning's local broadcast that Los Angeles suffered another aftershock from Sunday night's 4.7 earthquake. I guess that no matter where you live, there's a natural disaster of some sort right around the corner.
Last night I watched a documentary about just how America's financial meltdown started on Wall Street and spread to Main Street. And how, if you can imagine it, it could have been much, much worse. I guess if a natural disaster doesn't get us, we'll create a man-made one to do the job.
Scary stuff.
For the last eight weeks I've been writing about 'Thriving in Tough Times'. I began discussing the issue at 30,000 feet, trying to give you the big picture before we got down to details. I figure that we're so adept at creating our own personal 'natural disasters' in daily life that we'll do ourselves in before the next hurricane, tornado or financial meltdown has the opportunity.
Solving any problem, for me, begins with a look inside and then focusing on the big picture. Once I have those two squared away, I can move on to the details. That's why I put this series in the following order (just click the link to these previous week at the top of this post to scroll back), covering the big stuff first, and then working my way down to the details.
Week 1: Adopting a truly Christian worldview
Week 2: Putting spiritual priorities ahead of physical priorities
Week 3: Attending to Physical Priorities
Week 4: Living a stewardship lifestyle
Week 5: Pursuing your God ordained purpose
Week 6: Getting out of debt
Week 7: Tempering your faith in world systems
Week 8: Living in community
The turmoil this world is going through isn't going to be over tomorrow. Jesus will return one day and set things right, but he told us himself that great trouble would befall the world before he returns (read Matthew 24 and Mark 13). The only way we're going to survive the tough times we're in now and the tougher times to come is by having our priorities right – big stuff first.
This week, however, we're going to be looking at the short term. In all of our preparation for eternity and for long term spiritual and financial welfare in tough times, I don't want us to lose sight of being able to survive the next three days. In the same way some folks have never prepared to survive eternity or even their retirement (whatever that means these days) a lot of folks aren't even prepared to survive three days in the event that their umbilical cord to the grid is temporarily severed.
Natural disasters do that; sometimes man made disasters do it too. Should a disaster, sudden and short, befall you, would you be able to carry on for three days without Starbuck's, the ATM, Edison Electric or the Dish Network? Or would you be praying for the Red Cross truck to set up shop on the curb outside?
Short term disasters happen all the time. FEMA, the Federal Emergency Management Agency, got caught with their pants down after hurricane Katrina. More than 1,400 people in Louisiana died and hundreds of thousands lost access to their homes or jobs and were separated from family members. For the folks who went through the storm and its aftermath, it wasn't what they would define as a 'short term' disaster.
FEMA knows now that a Katrina-like disaster can happen at any time, and they know that it will; they just don't know when and where. So they're prepared – as prepared as they're going to get, anyway. You know their first line of defense? Convincing you to be prepared. What they're saying is, "we'll do what we can folks, but if you want to survive, you're chances are better if you take care of yourselves." That's comforting.
So when and where is the next natural or man made disaster going to take place? FEMA doesn't know; neither do I. But they're more regular and widespread than you might think. The president of the United States declared a state of disaster or emergency 377 times between 2000 and 2007. There were 92 declared last year – that's almost twice a week; they're getting more frequent. And they're spread pretty evenly across the country; unless you live in western Colorado or parts of Nevada (of course your chances of freezing in the Rockies or getting lost in the desert go way up), there's a pretty good chance your home will show up on a FEMA map one day.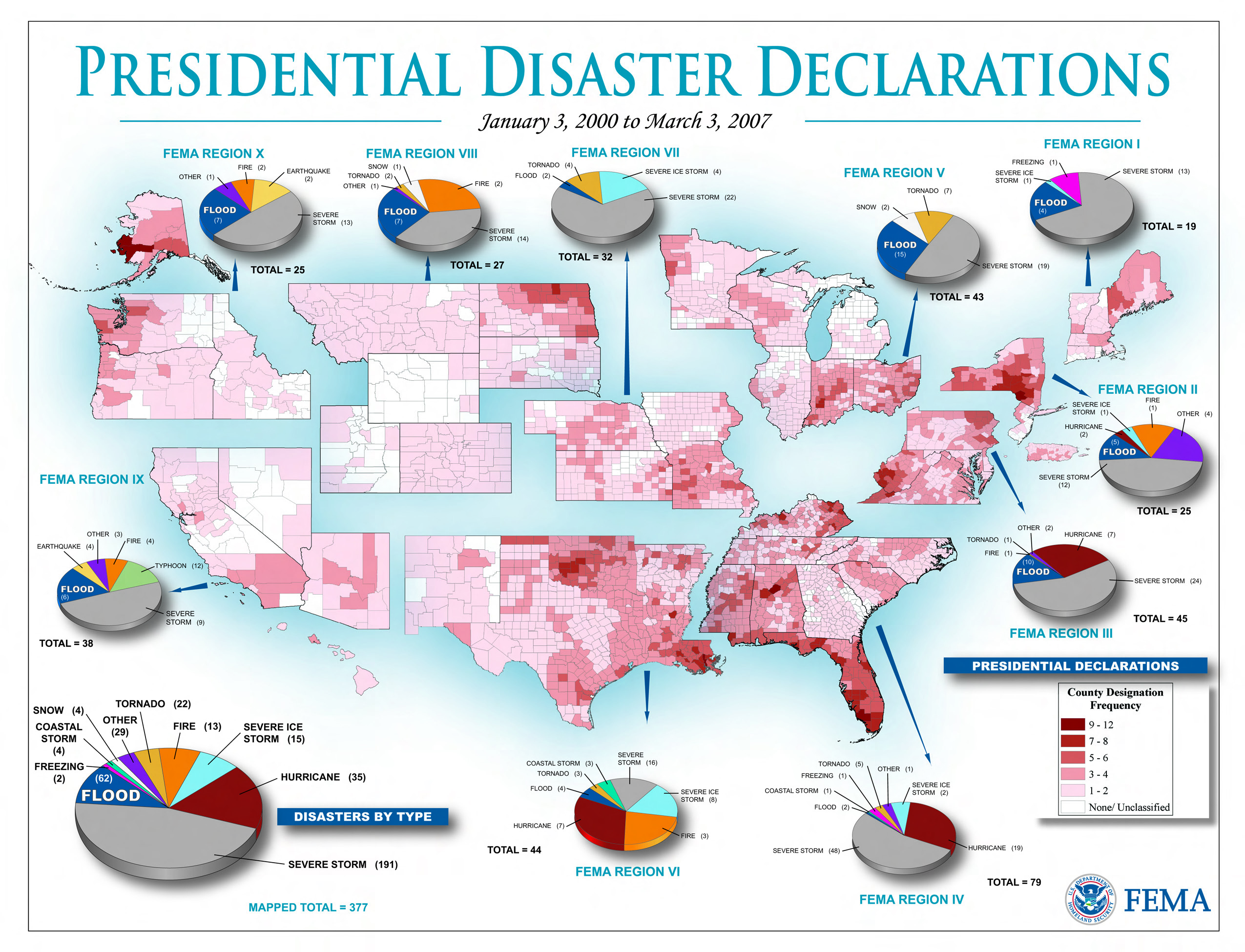 What to do? Well, the first (and the least) you can do is to prepare yourself and your family for a short term disaster. That means having a plan for where to go (and what to bring and how to pay for it) if you have to leave your home for a short time (evacuate). If evacuation isn't possible or it's not called for, do you have a plan for living through that same period of time without the benefit of electric or water utilities? Can't make coffee without water – got a few gallons stashed in the closet? Can't watch the news on TV or listen to the radio without electricity – got batteries? How about groceries? Do you really think the time to stock up is after a natural disaster? If you can get to a grocery store and, by some miracle of grace, it's open and there's something on the shelf, you're not counting on the ATM to spit out twenties when you put your card in, are you? What makes you think that service is going to be up and running – got some cash just in case?
I'm not talking about the end of the world (yet), I'm talking about something bad that happens somewhere in this country almost twice a week.
I write about being prepared for eternity. I write about being prepared for long term tough times. Are you even prepared for 72 hours without power, water or the grocery store? If your life will be turned upside down by a few days without this world's life support pumping into your veins, what does that say about what or Who you're counting on in the long term? The neighbor you've been trying to convince that peace and hope can only be found in a personal relationship and trust in a God who cares for you and takes care of all of your needs is sure going to be impressed when you run from your house screaming in panic because your Mr. Coffee won't work.
Preparation for the long term is essential. You can be captain of Fort Survival and still spend eternity in hell. But preparing for the short term is a part of wisdom. There are always plenty of panicked, lost, hurting people during and after a disaster. If you're one of them, how can you be of any help? In good times people aren't interested in why they're lost; in bad times they start listening. It would be a tragedy if all it took was a glass of water to open an opportunity for you to share living water with a thirsty soul and you were fresh out.
Three days. Is that too much to ask?
*****
There are plenty of websites with lists detailing what you should have on hand in case of a short term disaster. FEMA's is a good one, and you paid for it so you might as well take a look. Here's a link to the FEMA site: http://www.fema.gov/plan/index.shtm. Make a plan, make a list and start checking it off. In the event of a disaster, when FEMA does finally show up, offer them a cup of coffee.
Next week we're going to talk about the purpose behind tough times. Light shines brighter in the dark.
Until then, keep your batteries charged.
Steve Spillman